This is a blog about using technology to make life – business and home – better in rural America.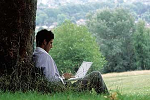 My interest is in networking, and, particularly, wireless networking. I realized some time back that a huge shift has occurred in the way everything is communicated: it is now possible and even desirable to put all communications media onto Internet Protocol (IP) so you have only one communications network. I also realized that wi-fi and other wireless networking is being grossly underutilized, especially in the country.
My specific interests include:
Networking – both Local-Area Networks (LAN) and Wide-Area Networks (WAN)
Computers – but these days, mostly as communications devices
The Internet – all the things you can do with it
Wireless Communications – from Ham Radio to SHF, but particularly low-cost wireless IP networking
When I bought a house a few years back, I thought it was kind of "cool" that the previous owner had gone to the expense to set up an Ethernet network in the house, with jacks built in the walls and wires leading to the "networking closet" (also known as the "laundry room"). Today, only one of those jacks is in use (to support my desktop computer and some other "wired" gadgets) because everything else in the house is on Wi-Fi, and that has happened over a span of about 5 years.
As a matter of fact, the only wires running in or out of our house now are (1) Electricity and (2) Internet. We have AT&T U-Verse, so our phone lines run on IP, our TV is IP, and, of course, our Internet access is IP. So, for better or worse, we are committed.
I have a number of projects I am working on to improve our household and business, as well as helping neighbors and friends. What I'd like to do here is share what I learn for the benefit of all.