So, in order to use the Internet from all over your property, you need something a little more powerful than your typical wifi router. But what, exactly?
If you're like me, the first thing you do is go to Google and search for "high power wifi" or "long-distance wifi" or something like that, and you get back… almost nothing useful. The searches return (at least as of the time I am writing this) numerous pages of links to industrial-grade wi-fi systems (for tens of thousands of dollars), do-it-yourself projects ("build a wifi antenna out of cans and baling wire), high-power indoor wifi routers (e.g. Bountiful and others), and high-power wi-fi adapters for your laptop (so you can access the free wi-fi at the coffee shop from a block away).
A few of the ads are for things like "high-power AP & CPE" which, believe it or not, is what we're looking for. These ads are aimed at Wireless Internet Service Providers, who use them (usually "tweaked" so they can't be used for wi-fi access) as Access Points (AP) and Customer Premises Equipment (CPE) – the AP goes on a tower, and the CPE goes on the side of someone's house to provide them with an internet connection. Because this equipment is meant for use by this rather demanding but low-margin business, they are tough, weatherproof (for mounting outside), and remarkably low-cost.
You'll see, looking at those links, that there are two general kinds; most of them are directional, which means they have an antenna that "focuses" the radio energy in one particular direction, and some of them are omnidirectional (or don't have an antenna at all), meaning they cast the radio energy in all directions around the unit.
The funny thing is that folks usually start with a directional unit because they are thinking of getting wi-fi to a specific place (e.g. a workshop) and a directional radio is the obvious way to do that. The problem comes later on when they realize that it's also useful to have a link to some other place (e.g. a barn) or two (garage, storage building, stable, grain bin, etc.), or just to have internet access all around the house.
Some of these directional devices have external connectors that can be used with omnidirectional antennas. Good examples include the Ubiquiti NanoStation, the EnGenius EOC2611P, and the Deliberant AP-Solo. If you're uncertain about how you want to proceed, these APs can provide flexibility. You can also start with one of them and simply add more in additional directions; 4-6 of them (depending on the directional gain of the antenna, pointed in various directions) create an omnidirectional signal.
However, best of all is to simply use an omnidirectional access point; my favorites are the Ubiquiti PicoStation 2 HP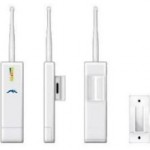 and the PicoStation M2; their cousins the Bullet 2 HP and Bullet M2
are similar, but comes without any antenna or power supply.
These Access Points are quite inexpensive, and they can be used up to half a mile away with a normal laptop. In addition, they have a function called "WDS" that allows you to set up additional APs as "repeaters." This can allow you to cover a very large area with a WiFi signal, although my own testing shows that the practical limit is two repeaters. The WDS system creates a lot of network "overhead" traffic, and more than two repeaters seems to overload the network.
These high-power APs can broaden the distribution of your internet connection considerably, making a reliable WiFi signal available across your property.  But there is a lot more you can do…